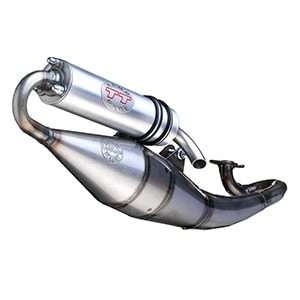 LEOVINCE HAND MADE TT ALUMINUM ( NOT ONLY END CAN IS ALUMINUM)
MAIN BODY MILD STEEL CLEAR COAT
**(VERIATOR GEAR UP ROLLERS INCLUDED)**
Design and quality for your scooter
Designed from the experience in the motorcycles' world,
LeoVince HAND MADE TT is the top range of sporting exhaust systems which combines high performance and quality design at a competitive price level.
Features
Steel expansion chamber with transparent paint finishing
Steel silencer with aluminum sleeve
Hand made TIG weldings
Roller weights and CVT springs included (when shown in the user manual)
Designed to enhance 2-stroke engine performance.
*NOTE WARRANTY DOES NOT COVER CORROSION IF CLEAR COAT NOT MAINTAINED*
FITS FOLLOWING MODELS:
ALUNIX 50
APRILIA GULLIVER 50
SCARABEO 50 WITH MINARELLI ENGINE
APRILIA RALLY 50
APRILIA SR50 STEALTH, SR RACING' 94 ON LIQUID COOLED
APRILIA SR50 '94on MINARELLI ENGINE L/C
BENELLI 491 RR50 MINARELLI ENGINE
BENELLI 491 STRADA 50
BENELL K2 50
BENELLI NAMAR 50
BENELLI PEPE 50 & PEPE LX50
BENELLI QUATTRO NOVE X 50
BETA ARK 50
BETA CHRONO/CH 502 50
BETA EIKON 50
BETA QUADRA 50
BETA TEMPO 13-16 50
DERBI EASY 50
GENUINE BUDDY 50
GENUINE ROUGHHOUSE R50
ITALJET DRAGSTER 50
ITALJET FORMULAR 50 MINARELLI HORIZONTAL ENGINE
MALAGUTI CIAK 50
MALAGUTI F10 JETLINE 50
MALAGUTI F12 PHANTOM 50
MALAGUTI F15 FIREFOX 50
MALAGUTI YEASTERDAY 50
MBK EVOLIS 50-80
MBK FIZZ 50
MBK FLIPPER 50
MBK FORTE 50
MBK MACH G 50
MBK NITRO 50
MBK OVETTO 50
MBK STUNT 50
MZ MOSKITO RX50
RIEJU F-10 50
RIEJU FIRST 50
RIEJU RS50 SPORT
RIEJU WINDY 50
SIAMOTO BIRDIE 50
SIAMOTO MAT 50
SIAMOTO SCROSS 50
SIAMOTO TOP RACING 50
TNG LS50
TNG SS50
TNG VENICE 50
VENTO TRITON GT5 50
VENTO TRITON LI50 2T
VENTO TRITON R4 50
VENTO ZIP R3I 50
YAMAHA AEROX 50 LC
YAMAHA AXIS 50
YAMAHA BREEZE 50
YAMAHA JOG 50
YAMAHA JOG RR50
YAMAHA NEO'S 50
YAMAHA VINO 50
YAMAHA WHY 50
YAMAHA ZEST 50-90
YAMAHA ZUMA 50
ALL PRICES -20% FOR EXPORT OUTSIDE EU.
AS OUR PRICES INC UK TAX !