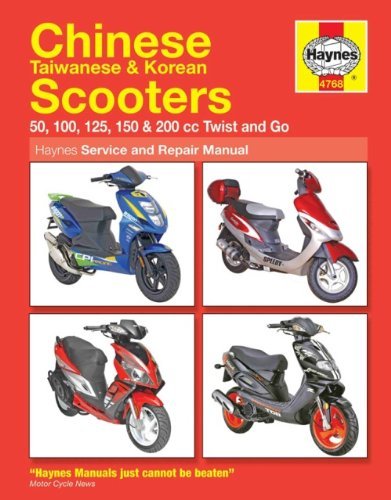 CHINESE /KOREAN/ TAIWANESE SCOOTER SERVICE & REPAIR MANUAL
*Printed in English. This item is non-returnable once the sealed packaging is removed.
*The technical expertise found in Haynes Manuals now comes to the rescue with their Service and Repair Manual for Chinese Twist and Go scooters.
*With detailed instructions and hints for most scooters from 50cc to 200cc, Haynes provide an indispensable guide to all repairs and servicing on your vehicle.
*An absolute must for any scooter owner.
*Available in softback only.
Inside this Manual:
*A guide to servicing and routine maintenance.
*Engine, transmission, fuel and ignition system repairs.
*Braking, suspension, steering and bodywork repairs.
*Haynes Hints and Tool Tips give you inside information.
*Spanner ratings grade all tasks by experience level.
*Fault finding and electrical testing made easy.
IMPORTANT INFORMATION:
Please be advised this manual may not contain specific model data regarding your scooter. However it explains procedures and techniques for almost every aspect of maintenance and repair that can be applied to any Chinese scooter.
FOR FOLLOWING MODELS SUITABLE FOR:
AJS Crazy 50, DFE50QT-F
AJS Exactly 125, LJ125T-B(AJS)
AJS Modena 50, ZN50QT-27
AJS Modena 125, ZN125T-27
Alisze FX50 50 CDI, YY50QT-15(ALISZE)
Alisze Jazy 50 CDI, YY50QT-21(ALISZE)
Axory Rallox, JSD50QT-13(AXORY)
BTM BT49QT-9
BTM BT49QT-12
BTM Retro, BT49QT-11A3
BTM Sprint, BT49QT-12C1
Baotian Apollo 10, BT49QT-9(A10)
Baotian Apollo 12, BT49QT-9(A12)
Baotian BT49QT-9
Baotian BT49QT-20B2
Baotian BT49QT-20BB
Baotian BT50QT-9
Baotian BT125T-9
Baotian Chase 49, BT49QT-7
Baotian Eagle 50, BT49QT-9F3
Baotian Eagle 50 GT, BT49QT-9F3(GT)
Baotian Evolution 125, BT125T-12E1
Baotian Falcon 50 (2T), BT49QT-28C
Baotian Falcon, BT49QT-28A
Baotian Glow 125, BT125T-2
Baotian Hawk 125, BT125T-7
Baotian Monza 50, BT49QT-21A3
Baotian Monza 125, BT125T-21A3
Baotian Rebel 49, BT49QT-12C1
Baotian Rebel 125, BT125T-12
Baotian Rocky, BT49QT-12E1
Baotian Scout 49, BT49QT-9
Baotian Scout 50, BT50QT-9
Baotian Tanco 49, BT49QT-12
Baotian Tanco 50 2, BT49QT-12
Baotian Tanco 125, BT125T-12F
Baotian Tommy 50, BT49QT-11
Beeline Veloce GT Race, VELOCEGT
Beeline Veloce GT, VELOCEGT
Benero BT49QT-9, BT49QT-9D1
Benzhou F35 2-stroke, YY50QT-27
Benzhou YY50QT
Benzhou YY50QT-10
Benzhou YY50QT-14
Benzhou YY50QT-15
Benzhou YY50QT-21
Benzhou YY125T-6
Benzhou YY125T-11, YY125T-11(BENZHOU)
Benzhou YY125T-19, YY125T-19(BENZHOU)
Benzhou YY125T-31
CPI ARAGON 50 (2T)
CPI ARAGON 50 GP (2T)
CPI ARAGON 125
CPI Formula 50 (2T), FORMULA 50
CPI OLIVER 50 (2T)
CPI OLIVER 125
CTM CTM50QT-7
Chituma CTM50QT-7
Dafier Crazy 50 (2T), DFE50QT-F(CRAZY)
Dafier Ghost 50, DFE50QT-F
Direct Bikes 50cc Milan, DB50QT-30A
Direct Bikes 50cc Ninja, DB50QT-6
Direct Bikes 50cc Ninja, DB50QT-15B
Direct Bikes 50cc Retro, DB50QT-7
Direct Bikes 50cc Retro, DB50QT-A
Direct Bikes 50cc Scorpion, DB50QT-32A
Direct Bikes 50cc Sports, DB50QT-5
Direct Bikes 50cc Sports, DB50QT-11
Direct Bikes 50cc Tommy, DB50QT-E
Direct Bikes 50cc Viper, DB50QT-25
Direct Bikes 50cc Viper, DB50QT-32
Direct Bikes 125cc Classic, DB125T-F
Direct Bikes 125cc Cobra, DB125T-6
Direct Bikes 125cc Cobra, DB125T-15D
Direct Bikes 125cc Cruiser, DB125T-7
Direct Bikes 125cc Cruiser, DB125T-7H
Direct Bikes 125cc Cruiser, DB125T-12A
Direct Bikes 125cc Lynx, DB125T-10
Direct Bikes 125cc Milan, DB125T-30A
Direct Bikes 125cc Scorpion, DB125T-32A
Direct Bikes 125cc Sports, DB125T-26
Direct Bikes 125cc Spyder, DB125T-22
Direct Bikes 125cc Tommy, DB125T-E
Direct Bikes 125cc Viper, DB125T-25
Direct Bikes 125cc Viper, DB125T-32
Direct Bikes DB50QT-16
Direct Bikes DB125T-9
Direct Bikes DB125T-13
Eurocka MATADOR 50 4T LED, JJ50QT-17(EUROCKA)
Eurocka VIRTUALITY 125T, JJ125T-13(EUROCKA)
Flex Tech Apollo 125, APOLLO125
Flex Tech Athena 125, JJ125T-3(FLEX TECH)
Flex Tech Cityliner 50, BT50QT-9(FLEX TECH)
Flex Tech Firenze 25/50, YY50QT-21(FT)
Flex Tech Firenze 125, YY125T-19(FLEX TECH)
Flex Tech Fun 125, YY125T-6(FLEX TECH)
Flex Tech Hurrican X2, JL50QT-4(FLEX TECH)
Flex Tech Jive, BT49QT-11(FLEX TECH)
Flex Tech KVR 125, YY125T-11A
Flex Tech Panter 125, JL125T-13(FLEX TECH)
Flex Tech Panter I, JL50QT-4(FT)
Flex Tech Piacenza 125, YY125T-31(FLEX TECH)
Flex Tech Sprint 50, BT49QT-9(FLEX TECH)
Flex Tech Topdrive 50, YY50QT-14(FT)
Flex Tech Topspeed 125, YY125T-11
Flex Tech VRR-50, YY50QT-10C
Flex Tech VRR-125, YY125T-10C
Flex Tech Venus II, HT50QT-6(FLEX TECH)
GRIP Freestyle 125cc, HT125T-25
Generic CRACKER (2T)
Giantco Athena 125, JJ125T-3
Guoben Madness 50, LB50QT-21
Haizhimeng GP1 (2 Stroke), HZM50QT-16
Haizhimeng GP1 (4 Stroke), HZM50QT-16
Haizhimeng LB50QT-21
Hanglong HL50QT-16
Hanglong LB50QT-16
Hanglong LB50QT-21
Haotian Bubble 50, HT50QT-9
Haotian Cobra 125, HT125T-4
Huatian City 125cc, HT125T-25
Huatian HT50QT-10
Huatian HT50QT-16
Huatian Sport 50cc, HT50QT-6
Huatian Sport 50cc, HT50QT-7
Huatian Sport 50cc, HT50QT-25
Huatian Sport 125cc, HT125T-21
IMF Industrie New Pach 51, NEWPACH51
IMF Industrie Pach 51, PACH51
IMF Industrie Twist 125, TWIST125
IMF Industrie Two 4, TWO4
JMSTAR JSD50QT-13
Jack Fox Apollo 125, APOLLO125(JACK FOX)
Jack Fox City Star, YY50QT(JF)
Jack Fox Formula One, YY125T-6(JACK FOX)
Jack Fox GT3, BT49QT-28C
Jack Fox Retro Cruiser, YY50QT-21(JF)
Jack Fox Retro Cruiser, YY125T-19(JACK FOX)
Jack Fox Retro Star, YY50QT-15(JF)
Jiajue MATADOR 50, JJ50QT-17A
Jiajue Revenge, JJ50QT-3
Jiajue Revenge, JJ50QT-3(A)
Jiajue Virtuality, JJ125T-13
Jinlun 125cc Cobra Scooter, JL125T-6
Jinlun 125cc Cruiser Scooter, JL125T-12A
Jinlun 125cc Tommy Scooter, JL125T-10
Jinlun Hornet 125, LK125GY-2
Jinlun JL50QT-5
Jinlun JL50QT-6
Jinlun JL50QT-7
Jinlun JL125T-13
Jonway Adventure 125, YY125T-12
Jonway Agility 50, YY50QT-6
Jonway Madness 50, YY50QT-31
Jonway Madness 125, YY125T-31(MADNESS)
Keeway F-ACT 50 (2T)
Keeway HURRICANE 50 (2T)
Keeway HURRICANE 50 (4T), HURRICANE (4T)
Kymco Agility 50, AGILITY50
Leike 50GY-2, LK50GY-2
Leike 125GY-2, LK125GY-2
Lexmoto Dart 125, WY125T-100
Lexmoto Diablo 125, LJ125T-8M
Lexmoto Echo 50, LJ50QT-3L
Lexmoto FM 50, WY50QT-111
Lexmoto FMR 50, WY50QT-58R
Lexmoto FMR 125, WY125T-74R
Lexmoto FMS 125, ZN125T-7H
Lexmoto FMX 125, WY125T-108
Lexmoto Firenze 125, ZN125T-F
Lexmoto Flash 50, ZN50QT-15A
Lexmoto Gladiator 125, SB125T-23B
Lexmoto Matador 125, ZS125T-40
Lexmoto Milano 50, FT50QT-27
Lexmoto Milano 125 EFI, FT125T-27-E4
Lexmoto Milano 125, FT125T-27
Lexmoto Molly 50, DFE50QT-3
Lexmoto Scout 49, BT49QT-9LEX
Lexmoto Tommy 50, ZN50QT-A
Lexmoto Tommy 50, ZN50QT-E
Lexmoto Tommy 125, ZN125T-E
Lexmoto Tornado 50, SB50QT-16(B08)
Lexmoto Tornado 125, SB125T-21(B08)
Lexmoto Valencia 50, ZN50QT-K
Lexmoto Valencia 125, ZN125T-K
Lexmoto Verona 125, WY125T-41
Lexmoto Vienna 50, WY50QT-110
Lexmoto Vienna 125, WY125T-121
Lexmoto Zoom II 125, SB125T-21(B10)
Lifan Aero 50 (2T), LF50QT-26A
Lifan Aero 50 (4T), LF50QT-26
Lifan Aero 125, LF125T-26
Lifan Jet 50, LF50QT-2A
Lifan LF50QT-8D
Lifan LF125T-6
Lifan Pannier 50, LF50Q-2
Lifan Retro, LF125T-9A
Lingben LB50QT-21
Lintex HT50QT-12, HT50QT-12(LINTEX)
Lintex HT50QT-16
Lintex HT50QT-33
Lintex HT125T-12
Longjia Alien 125, LJ125T-A
Longjia LJ50QT-3L, LJ50QT-3L(LJ)
Longjia LJ50QT-3M
Longjia LJ50QT-K (2T)
Longjia LJ125T-B
Longjia Raptor 125, LJ125T-A
Luxxon F104, BT49QT-28A
MKS Ecobike Panter I, BT50QT-9(MKS)
Mondial 125 RT Akik, RTAKIK
Moto Zeta Rally 50 SC , RALLYSC
Neco BT49QT-28C
Nipponia Dion 125, DION125
Nipponia Miro 125, MIRO125
Nova Motors City Star, YY50QT(NM)
Nova Motors F35 2-stroke, YY50QT-27(NM)
Nova Motors Retro Cruiser, YY50QT-21(NM)
Nova Motors Retro Cruiser, YY125T-19(NOVA MOTORS)
Nova Motors Retro Star, YY50QT-15(NM)
Peugeot SUM UP 125, SUM-UP
Peugeot V-Clic, V-CLIC
Pulse Force 2T 50, BT49QT-28A
Pulse Force 2T, BT49QT-20CA
Pulse Force 4T, BT49QT-20BB
Pulse Force 50, HT50QT-36
Pulse Ghost 50, DFE50QT-F
Pulse Lightspeed 2 50, WY50QT-58
Pulse Lightspeed 2 125, WY125T-74
Pulse Lightspeed 50 2T, HT50QT-28
Pulse Lightspeed 50, HT50QT-25
Pulse Lightspeed 125, HT125T-25
Pulse Phantom 50, ZN50QT-32A
Pulse Phantom 125, ZN125T-32A
Pulse Rage 50, LK50GY-2
Pulse Rage 125, LK125GY-2
Pulse Rhythm 50, SB50QT-16
Pulse Scout 49, BT49QT-9
Pulse Storm 50, HT50QT-6
Pulse Strider 125, SB125T-23A
Pulse Tanco 49, BT49QT-12
Pulse Tanco 50, BT49QT-12
Pulse Vijo 125, HT125T-9
Pulse Zoom 50, HT50QT-7
Pulse Zoom 125, HT125T-21
Qingqi QM50QT-6A
Qingqi Sum-Up, QM125T-10H
Razzo QT-R, BT49QT-28B
Razzo Tanco 50, BT49QT-12
Razzo Tanco 125, BT125T-12F
Recto Retro, BT49QT-11
Rex Imola 125, IMOLA125
Rex Milano 125, MILANO125
Rex Monaco 125, MONACO125
Rex RS 125, RS125
Rex RS450
Rhon Phantom, LH50QT-9
Romet Retro 7 125, RETRO7
SOLIFER Retro, BT49QT-11A3
Sanben Gladiator 125 (06/07), SB125T-23
Sanben Gladiator 125, SB125T-23B
Sanben Tornado 50, SB50QT-16(B08)
Sanben Tornado 125 (06/07), SB125-B08
Sanben Tornado 125, SB125T-21(B08)
Sanben Zoom 125 (06/07), SB125-B09
Sanben Zoom II 50 (2T), SB50QT-16(B10)@
Sanben Zoom II 125, SB125T-21(B10)
Scooter Devil Blue Dragon 50-4T, YB50QT-21(SD)
Scooter Devil Cruiser 50-4T, BQ50QT-40
Scooter Devil Mosquito 50-4T, YY50QT(SD)
Scooter Devil Warrior 50-2T, BQ50QT-21B
Scooter Devil Warrior 50, BQ50QT-21
Sinnis Eagle 50cc (2T), QM50T-10R
Sinnis Eco City 125, QM125T-8G
Sinnis Falcon 50, QM50QT-2
Sinnis Harrier 125, ZN125T-22(SINNIS)
Sinnis Matrix II 125cc, QM125T-10H
Sinnis Shuttle 125, ZN125T-7H(SINNIS)
Skygo Commander, SG125T-6
Skygo Milan, SG125T-9A
Skygo Top 1, SG50QT-2A
Skygo Urban, SG50QT-2A
Star Quad JL50QT-5, JL50QT-5(STAR QUAD)
Sukida Alien 125, SK125T-14
Sukida Commander, SK125T-18
Sukida Lutetia, SK50QT-19
Sukida Pharaoh, SK125-2
Sukida Sportman 2 (2T),
[email protected]
Sukida Sportman 2 (4T), SK50QT-21-SM
Sukida Sportman 2, SK125T-21-SM
Sukida Top 1, SK50QT
Sukida Viper 50, SK50QT-21
Sukida Viper 125, SK125T-21
Superbyke MPED 50, MPED50
Superbyke Powerband 50, SB50QT-16(B10)
Superbyke Powerband 125, SB125T-21(B10)
Superbyke SMAX 125, SMAX125
Sym Jet Euro X 50cc (2T), JET50
Tamoretti RETRO 50, RETRO50
Tamoretti Retro 125
Tamoretti Stealth 125, STEALTH125
Template 152QMI 10 Inch Wheel, 152QMI10
Template BN139QMB
Viarelli Sprint, BT49QT-12C1
WK Bikes Bellissima 50, HT50QT-12
WK Bikes Bellissima 125, HT125T-12(WK)
WK Bikes GO50, JJ50QT-3(WK)
WK Bikes Mii 50, HT50QT-33(WK)
Wangye WY50QT-16
Wangye WY50QT-16(B08), WY50QT-16(B08)
Wangye WY125-B08
Wangye WY125-B09
Wangye WY125T-21(B08), WY125T-21(B08)
Wangye WY125T-21(B10), WY125T-21(B10)
Wangye WY125T-23A
Wangye WY125T-23B
Xingyue Cobra 125, LLX125T-11
Xingyue Phoenix 50, LLX50QT
Yamati GP1 (2T), HZM50QT-16
Yamati GP1 (4T), HZM50QT-16 4T
Yiben Gladiator 125, YB125T-15(B)
Yiben Hurricane 50, YB50QT-9
Yiben Hurricane 125, YB125T-22
Yiben Scout 50, YB50QT-3
Yiben Storm 50, YB50QT-6
Yiben Strider 125, YB125T-15
Yiben Striker 125, YB125T-22D
Yiben YB50QT-21
Yiben Zoom 125, YB125T-22C
Yiying Tommy 125, YY125T-19
Zennco Matrix, WY50QT-16
Zennco Saturn, DFE50QT-F
Zhongyu ZY50QT-7
Zing Bikes Beat 125cc, LF125T-9A
Zing Bikes Echo 50cc, LF50QT-8D
Zipp Triad, BT49QT-12F1
Zipp Zico, BT49QT-28A
Znen Firenze 125, ZN125T-F
Znen Flash 50, ZN50QT-15A
Znen Speedy Streetfighter, ZN50QT-11
Znen Tommy 50, ZN50QT-A
Znen Tommy 125, ZN125T-E
Znen ZN50QT-11
Znen ZN50QT-E
Znen ZN125T-22