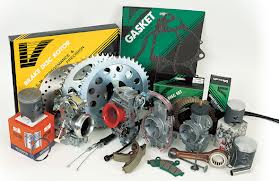 Dear Motorcycle dealer,
Please read this offer and put it away to pick it back up in winter time. Predator Motorsport buys excess Japanese motorcycle parts inventories. If you have a lot of parts sitting in your warehouse gathering dust, read on, this letter is for you!
We are looking to buy your inventory on genuine parts for Honda, Kawasaki, Suzuki, Yamaha, Ducati, Aprilia Etc
Here is what we need from you;
1.A list of your parts inventory (part number and qty)
2.if you do not have a list please do mail us pictures of your warehouse and the lumps of parts you are looking to sell
3.Your price.
Requirements
Primarily, we are looking for ANY inventories. Please email us if you have just a few line items or a whole warehouse !
Predator will take these into consideration.
The parts need to be (mostly) in the original packing with part numbers. Parts out of the original packing must have part numbers. Parts without part numbers are not of any value to us. The parts need to be in perfect condition. Damaged parts are not of value to us.
Prices
Predator looks at sales opportunities. Parts might have a high retail value but will they sell? We judge by sales history, some parts will sell better then other parts, and this is how we value your inventory. We will pay a fair price for what you have to offer.
Please mail your details by using the form.
Please note, we only speak English. So we would appreciate to have further communications in English.
Thank you for your kind attention and we do look forward to hear from you!